Here's the cleaned-up, PDF version of the method I posted.
It'll get you to end bad habits and start up on new good ones.
→ By leaving your email, you agree to receive the occasional email ONLY from me (no spam, no trash... unsubscribe if you just want the PDF).
→ I'm actually here for something else.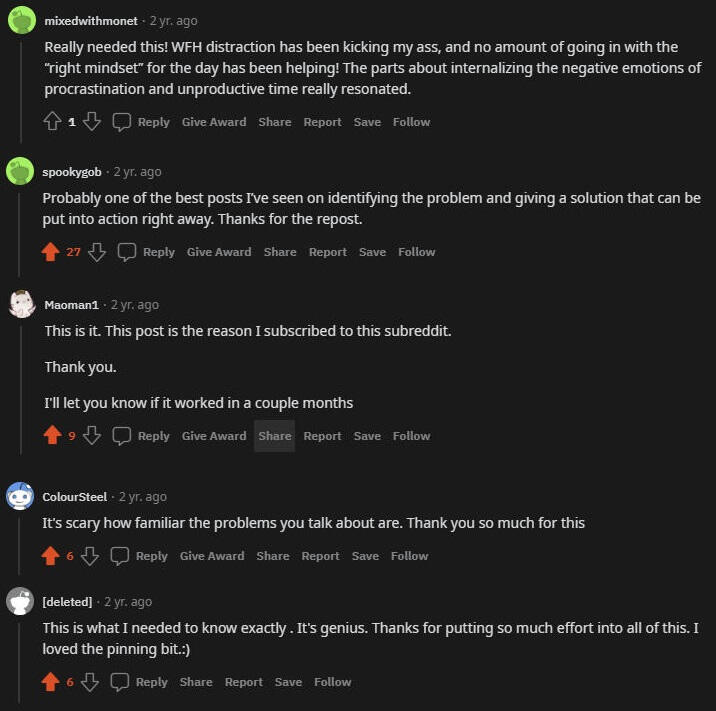 Not sure if it's worth the read? Here are some comments it got when I posted it to Reddit...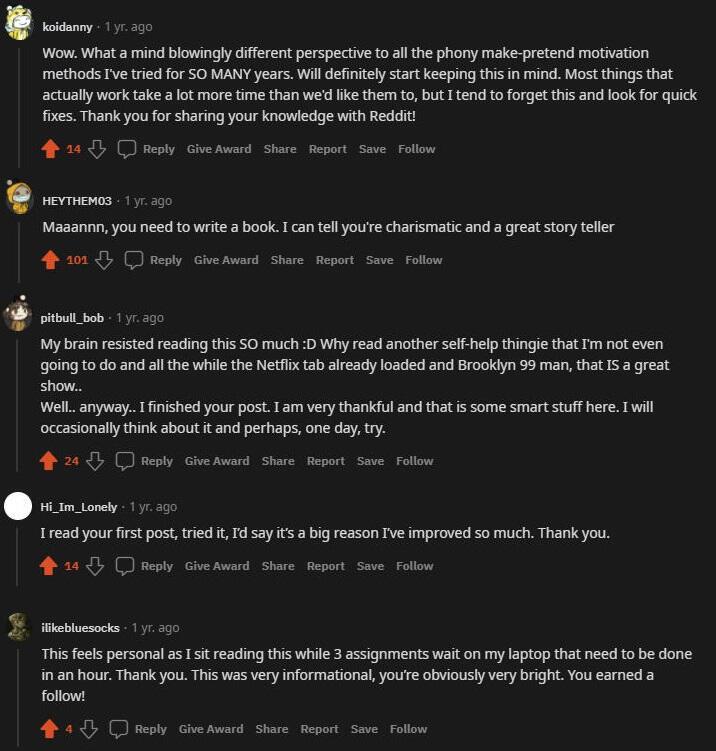 Why do you use Telegram to send the PDF?Telegram provides for me an ideal way to transfer a PDF file directly to you.I use Telegram since, unlike WhatsApp and Messenger, it's not owned by Facebook. Your privacy is ensured while your data is kept from advertisers.
⠀What if I don't have an account?If you're on mobile, it's super quick to install the app and create an account. Get it here for iPhone and here for Android.
⠀What if I can't make a Telegram account?No stress. Shoot me an e-mail (simon@simond.me) and I'll send it to you as an attachment.
There's a book?No, not yet... but I'm working on it :)My goal is to self-publish a full book, expanding on the ideas of the Habit Reframe Method.If you want me to keep you posted (and receive sweet a discount coupon), drop your email in the form below.If you have any questions or concerns, shoot me a message.- Simon ㋛
About Habit ReframeChance are you struggle needlessly with self-control and a lack of motivation. The Habit Reframe empowers you to stop procrastinating while unlocking your drive to stay consistent with good habits. The result: a productive, happy and fulfilling life.The Habit Reframe brand was founded by Simon D. in 2020. It's publications and programs include:
- The Habit Reframe Method, a free ebook.
- Self-improvement articles on Reddit.
- The Group Accountability Program on Discord.Looking to connect?Write to simon [at] simond.me- Simon ㋛
© 2022 habitreframe.com. All rights reserved.
Preorder the book that will change your life.
Reclaim your life from tech addiction. Build better habits. Live a more productive, fulfilling and happy life.